Episodes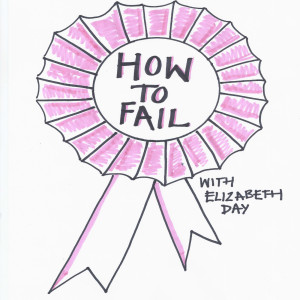 Wednesday Jun 26, 2019
Wednesday Jun 26, 2019
We're BAAACK! As House of Pain once rapped in their immortal hit Jump Around, 'Just like the Prodigal Son I've returned'. Yes, here we are for Season 5 of How To Fail With Elizabeth Day: eight sparkling new episodes featuring eight marvellous guests.
And for our opening episode, I could not be happier to welcome the legendary Nigel Slater to the podcast. The bestselling and beloved cookery writer, whose books have adorned every kitchen worth its (Maldon) salt for decades, joins me to talk about his failure to be a proper chef, his fear that he let his father down and his failure to be a good friend. We also talk about sexuality, children, neatness, ceramics and whether or not he believes in an afterlife. Nigel was an utter joy from beginning to end and arrived in my flat for the recording bearing a bunch of flowers he had picked from his garden and a packet of green tea so delicious I promptly devoured it and had to order a massive packet of it online.
Thank you Nigel, for being so lovely. I hope you all enjoy the episode as much as I enjoyed doing the interview - and if you do, I'd be so grateful for any ratings or reviews you'd like to give us.
***SPECIAL ANNOUNCEMENT KLAXON***
I am thrilled to be taking How To Fail on tour around the UK in October, sharing my failure manifesto with the help of some very special guests. These events are not recorded as podcasts so the only way to be there is to book tickets via www.faneproductions.com/howtofail
How To Fail With Elizabeth Day is hosted by Elizabeth Day, produced by Chris Sharp and Naomi Mantin and sponsored by Teatulia. To contact us, email howtofailpod@gmail.com
The Sunday Times Top 5 bestselling book of the podcast, How To Fail: Everything I've Ever Learned From Things Going Wrong by Elizabeth Day, is out now and is available here.
Nigel Slater's latest (wonderful) book, Greenfeast, is published in two volumes. Spring / Summer is out now and available to order here. Autumn / Winter is out later this year and available to pre-order here.
Social Media:
Elizabeth Day @elizabday
Nigel Slater @nigelslater
Chris Sharp @chrissharpaudio
Naomi Mantin @naomimantin
Teatulia @TeatuliaUK
Comments
(3)
To leave or reply to comments, please download free Podbean or
Lovely! And very enlightening!
Absolutely love this guy. Fabulous nigel slater.